Dr. Anne Mette Lykke (project coordinator)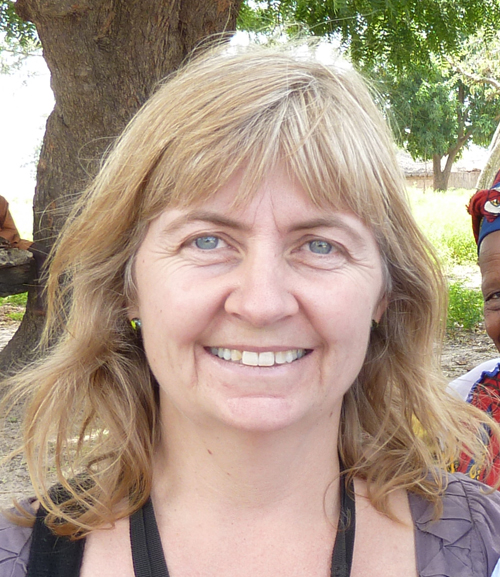 Dr. Anne Mette Lykke (project coordinator)

Department of Bioscience, Aarhus University

Vejlsøvej 25, 8600 Silkeborg, Denmark
Tel: +45 8920 1765, mobile: +45 2778 2834
Email: aml@dmu.dk
Dr. Anne Mette Lykke, PhD, Senior Scientist (Coordinator). Biologist, specialised in African
biodiversity and ethnoecology, with 18 years experience in applied research in West Africa. She
has participated in several interdisciplinary research projects on relating satellite information to
biodiversity field data. She has coordinated an EU Inco-dev FP6 project (SUN) and a Danidafinanced project for enhancement of biological research capacity in West Africa.
CV
EDUCATION

1997 PhD in tropical ecology, from Department of Systematic Botany, University of Aarhus


1993 Cand. scient. in biology, from Department of Systematic Botany, University of Aarhus


1993 High school diploma (modern grammar), from Slagelse Gymnasium


1991- Participation in conferences, courses and seminars on tropical ecology, biodiversity,
statistical analyses, multivariate analysis, ethnobotany, natural resource use in a multidisciplinary perspective, etc.
Professional experience


2007- Project coordinator of the EU financed SUN project (Tools for management and Sustainable Use of Natural vegetation in West Africa). Planning and coordination of research and management activities, daily administration, organisation of networks and supervision of PhD students.


2006 Teaching and development of new courses in applied statistics at Institute of Biological Sciences, AU.


2002-2005 Project coordinator of the Danida financed ENRECA project (Enhancement of Research Capacity in Senegal and Burkina Faso). Planning and coordination of research activities and capacity building, daily administration, planning of courses and workshops, supervision of PhD students.


2001-2004 Associate professor on the multidisciplinary project SEREIN-2 (Sahel-Sudan Environmental Research Initiative). Research on savanna ecology, vegetation dynamics, biodiversity, ecosystem management, local perceptions and participatory approaches.


2000 Consultant for World Wildlife Fond in Niger. Evaluation of vegetation status in Aïr Ténéré in relation to preparation of a biodiversity conservation programme.


1999-2001 Research Fellow on the multidisciplinary project 'Forest and People in Thailand'. Investigations, statistical analyses and mapping of vegetation in Northern Thailand. Vegetation data were related to satellite images, ethnobotanical and biophysical aspects.


1997-1999 Research Fellow on the multidisciplinary project SEREIN (Sahel-Sudan Environmental Research Initiative). Research on natural resource use, vegetation analysis and local knowledge.


1999-2006 Coordination of conferences: 1) Sahel Workshop 1999, 2) Conférence sur la Recherche Biologique dans une Contexte Multidisciplinaire 2000, 3) Sahel Workshop 2004, 4) Hommes, Plantes et Environnement au Sahel Occidental 2004, 5) Biodiversity Informatics 2006.


1993-2007 Teaching in vegetation analysis, applied statistics, multivariate analysis, savanna ecology, ethnobotany, plant anatomy at Institute of Biological Sciences, AU.


1991-1996 PhD (and master thesis) project on vegetation ecology of a National Park in Senegal. Vegetation data were collected, analysed, supplemented with ethnobotanical data and related to sustainable use and conservation of natural resources.


1988-1989 Coordination of an environmental project in Lesotho and Zimbabwe for the Danish Association for International Collaboration and Danish Red Cross.
10 RELEVANT PUBLICATIONS
Gouwakinnou, G. N., Lykke, A. M, Assogbadjo, A. E., Sinsin, B. 2011. Local knowledge, pattern and diversity of use of Sclerocarya birrea. Journal of Ethnobiology and Ethnomedicine 7:8.doi:10. 1186/1746-4269-7-8.
Lykke AM, Mbow C, Sambou, Zuur AF, Ieon EN, Smith GM. 2007. Redundancy analysis and additive modeling applied on savanna tree data. In: Zuur AF, Ieno EN & Smith GM. Analysis of Ecological Data. Statistics for Biology and Health, Springer, New York.
Wezel A & Lykke AM. 2006. Woody vegetation change in Sahelian West Africa: evidence from local knowledge. Environment, Development and Sustainability 8: 553-567.
Ouôba P, Lykke AM, Boussim J & Guinko S. 2006. La flore medicinale de la Forêt Classee de Niangoloko, Burkina Faso. Etude sur la Flore et la Vegetation du Burkina Faso et des PaysAvoisinants 10: 5-16.
Lykke AM, Mbow, C & Sambou B. 2005. Vegetation changes in West Africa: perceptions and implications for policy and development. SEREIN Occasional Paper 18: 61-82.
Lykke AM, Kristensen M & Ganaba S. 2005. Usages locaux et tendences de la dynamique de 56 plantes ligneuses au Sahel. SEREIN Occasional Paper 19: 143-160.
Lykke AM, Kristensen MK, Ganaba S. 2004. Valuation of local use and dynamics of 56 woody species in the Sahel based on 100 ethnobotanical interviews. Biodiversity and Conservation 13:1961-1990.
Madsen J, Lykke AM, Boussim J, & Guinko S. 2004. Floristic composition of two 100 km2 reference sites in West African cultural landscapes. Nordic Journal of Botany 23: 99-114.
Sambou B, Lykke AM & Goudiaby A. 2003. La problematique de l'implication des collectivites locales dans la gestion des reserves forestieres au Senegal. SEREIN Occational Papers 16: 125 136.
Lykke AM, Sambou B & Goudiaby A. 2002. Dynamique des espèces ligneuse dans une savane  soumise au feux dans le Parc National du Delta du Saloum, Sénégal. Annales de Botanique de l'Afrique de l'Ouest 2: 67-78.
Lykke AM. 2000. Local perceptions of vegetation change and priorities for conservation of woody savanna vegetation in Senegal. J. Environmental Management 59: 107-120.
Undesert
works to create an improved understanding of the effects of desertification and degradation processes in West Africa and to develop and implement best practices, such as carbon forestry, in close collaboration between scientists and local communities.

Financed by EU-FP7.